Bowen Icon Cancer Centre first in New Zealand to treat with HyperArc
First in New Zealand to treat multiple brain tumours with new advanced radiation therapy technology
A Wellington cancer patient has become the first person in New Zealand to have multiple brain tumours treated at the one time with a new radiation therapy technology at Bowen Icon Cancer Centre at Bowen Hospital.
Bowen Icon Cancer Centre is the first in New Zealand to treat a patient with multiple brain tumours using Varian's HyperArcTM, a new advanced cancer treatment technology providing a true end-to-end solution for multiple brain tumours. The HyperArc technology utilises the features of the Varian machine that delivers radiation therapy (TrueBeam linear accelerator) to accurately deliver precise radiation therapy and enables a patient's cancer treatment to be delivered with greater efficiency, accuracy and comfort.
HyperArc enables clinicians to treat multiple tumours with high-doses of radiation therapy precisely pinpointing the tumours in various locations in the brain – all with a full automated system. It enables multiple tumours to be treated while ensuring limited doses to surrounding healthy brain tissue. Some systems require multiple setup points and the need for treatments to stop and start, meaning patients are on the treatment bed for longer. HyperArc is able to deliver treatment to multiple tumours quicker in one automated setup point, meaning patients are on the bed for shorter periods of time, with treatment lasting only a few minutes, and the process is completed in the safest way possible with one single process from start to finish.
41-year-old Emily Brodnicki was diagnosed with Stage 3 bowel cancer in 2016. Having gone through surgery and six months of intense chemotherapy for bowel cancer, Emily has since continued to see specialists. In 2018 the cancer had spread to her lung, where she received radiation therapy treatment. Earlier this year, CT scans found three tumours in her brain.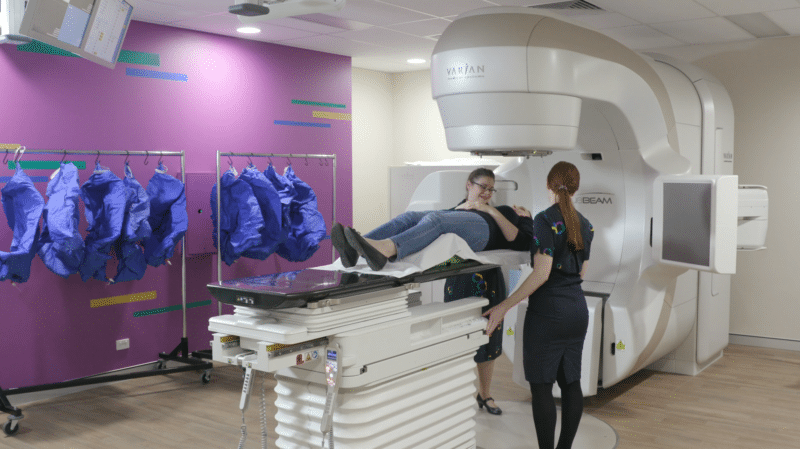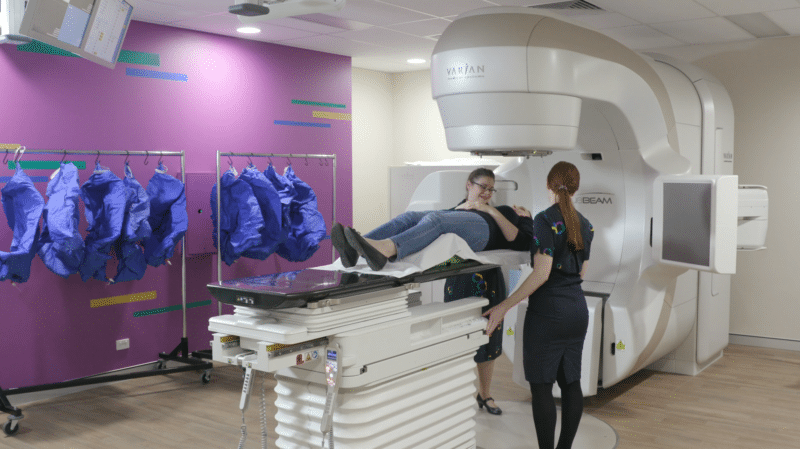 However, Emily has been able to receive treatment using the HyperArc technology which has allowed her to continue living the best possible life.
"When I was told I had tumours in my brain, I was just devastated. I thought I'd had a stroke, but hearing it was a tumour – I thought that was the end. It was a really scary time," said Emily.
"Hearing that I might have to get my whole brain radiated was daunting, I was told it could result in early dementia. But then when I was informed I could receive this new precise treatment, I became optimistic. The treatment was so non-invasive, it was incredible. I was only on the bed for about 15 minutes and I felt fine afterwards. I never really felt that unwell or tired."
"The fact that someone could do something at every stage gave me hope. Being able to access this treatment and have my tumours all treated at once was just amazing. I'm able to continue spending time with my kids and making the most of every minute."
Icon Group CEO Mark Middleton said the company invests in the latest technology and cancer techniques for the benefit of patients and their families.
"The Varian HyperArc™ technology places Bowen at the forefront of exceptional cancer care, both in New Zealand and across the world. Every day, an estimated 63 people in New Zealand are diagnosed with cancer, providing the latest technology is vital to give people the best possible treatment outcomes, and ensure they receive this care when and where they need it," said Mr Middleton.
Acurity Health Group CEO, Dr Jonathan Coleman said the partnership with Icon Group to develop Bowen Icon Cancer Centre has increased cancer treatment options for patients.
"Private cancer care plays an important role in supporting public hospital services by broadening the treatment options for patients like Emily," says Dr Coleman.
Bowen Icon Cancer Centre offers treatment for all cancers and blood disorders and personalised support for patients and their loved ones for every step of their cancer treatment. The centre includes a 6-chair day hospital with the ease of no wait-list, consultation and treatment in a timely manner, free parking for patients and an experienced team of medical professionals.