Bringing comprehensive cancer care to Mackay
On 9th February 2018, a state-of-the art Icon Cancer Centre officially opened in Mackay, bringing all aspects of cancer care under one roof from chemotherapy to radiation therapy and treatment for blood disorders.
The centre will ensure local people affected by cancer can now receive comprehensive care on their door step.
Mayor Greg Williamson comments, "This is a momentous occasion for the people living with cancer in Mackay. Cancer is an important issue for our community with recent data from the Cancer Council showing 750 people in Mackay are diagnosed every year, this state-of the art cancer care centre will make a huge difference to cancer patients and their families for many years to come."
Cancer patients often require treatment for many months and travelling away from home while undergoing these treatments can have an enormous impact not only on the patient, but the patient's family and friends. The centre is the first to offer radiation oncology services locally relieving patients from having to travel long distances outside of Mackay for this treatment and reducing the burden of cancer in the community.
Natalie Hine, a primary school teacher at North Mackay Primary School and mother of three, was diagnosed with breast cancer in July 2017 and is finishing her 15th round of chemotherapy next month. Natalie will be one of the first patients to start radiation therapy at the Icon Cancer Centre.
"When I was told I had to receive radiation after my chemotherapy, it was so stressful. I knew straight away that meant I would have to leave Mackay for 5 to 6 weeks; who would look after my kids, I just didn't know how we were going to be able to make it work."
"But when I was told I will be able to receive radiation treatment here in Mackay all that added pressure was immediately taken away. For me, it was about not being sent away from my support network, from the important people that help me get through this bump in the road. I'm so grateful I will be able to stay in Mackay for all my treatment."
Pictured: Mackay Regional Council, Mayor Greg Williamson, Icon patient, Natalie Hine, Icon Group CEO Mark Middleton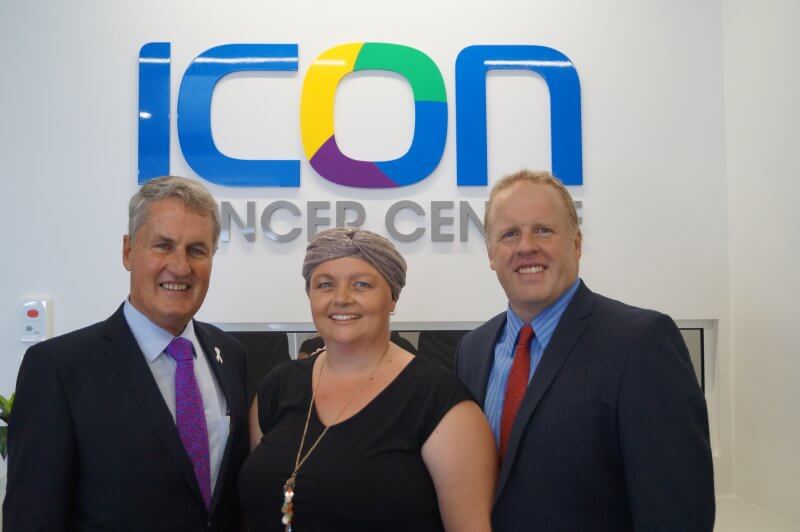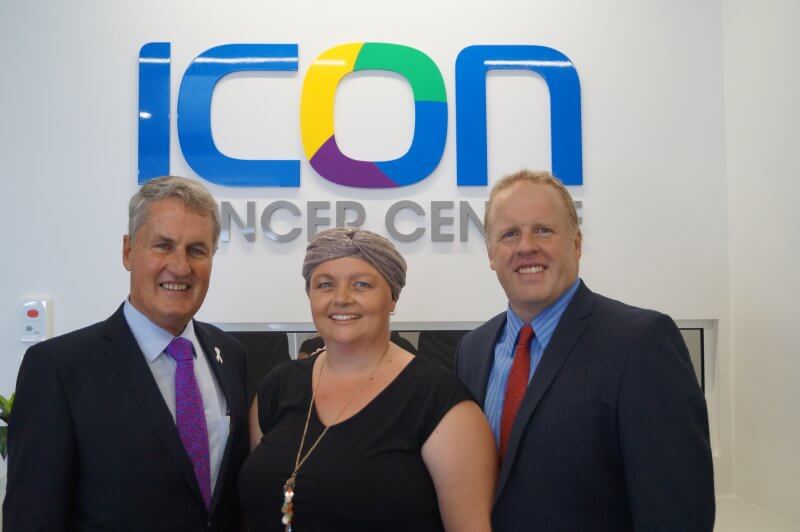 Icon Group CEO, Mark Middleton said, "The radiation technology installed in Mackay's Icon Cancer Care Centre is some of the most advanced technology in the world. Patients will be able to access the same advanced care here that they would get in Brisbane, Sydney, Melbourne or indeed London or New York."
Dr Ian Irving, Icon Group Medical Director and Haematologist at Icon Cancer Centre, explains how it will benefit local cancer patients.
"The centre can provide 6000 chemotherapy and blood disorder treatments and will have the capacity to deliver 18,000 radiation therapy treatments every year."
"This model will provide quality comprehensive cancer care which is important to patients and beneficial for their treatment, we are proud of the support we can now offer to the local Mackay community."