Icon Cancer Centre officially opens at The Valley Private Hospital
The new Icon Cancer Centre Mulgrave at The Valley was officially opened today by Monash Council, Mayor Paul Klisaris.
The state-of-the-art centre offers the local community of Mulgrave world-class radiation therapy treatment in a friendly and supportive environment for patients and their loved ones.
The centre is equipped with the most advanced cutting-edge technology suitable for a wide range of cancers and with the capacity to deliver up to 40 courses of radiation therapy per day.
The Varian Medical Systems TrueBeam linear accelerator is the most powerful radiation therapy technology available anywhere in the world and offers pinpoint precision radiation treatment and techniques for the benefit and comfort of patients.
Local patient Audrey Thomson is one of the first patients to be treated at the centre. Audrey was diagnosed with breast cancer in December and after initial surgery, is undergoing radiation therapy, with the support of her husband, family and grandchildren.
"The whole thing happens so fast, it's emotionally draining. But you can't dwell on it, it's not easy, but you get through it" Audrey comments on her diagnosis.
"Having a centre 10 minutes from home is a blessing. I had my operation at The Valley Hospital and so I felt comfortable going to Icon, I knew the place. The centre's team of clinicians and support staff make me feel part of their family. When you're having a bad day, and there are a lot of bad days, they talk you through it and they make you feel at ease."
Pictured: Icon Group Founder and Chairman, Stuart Giles and Mayor Paul Klisaris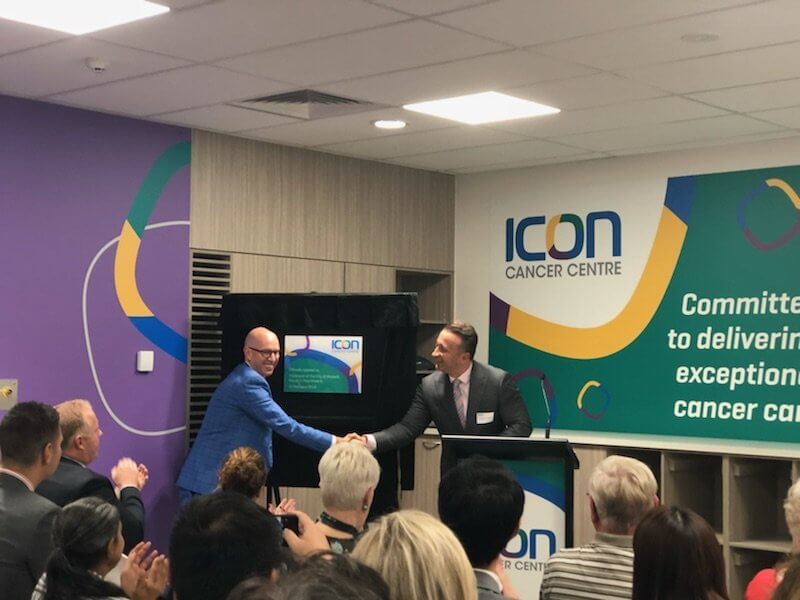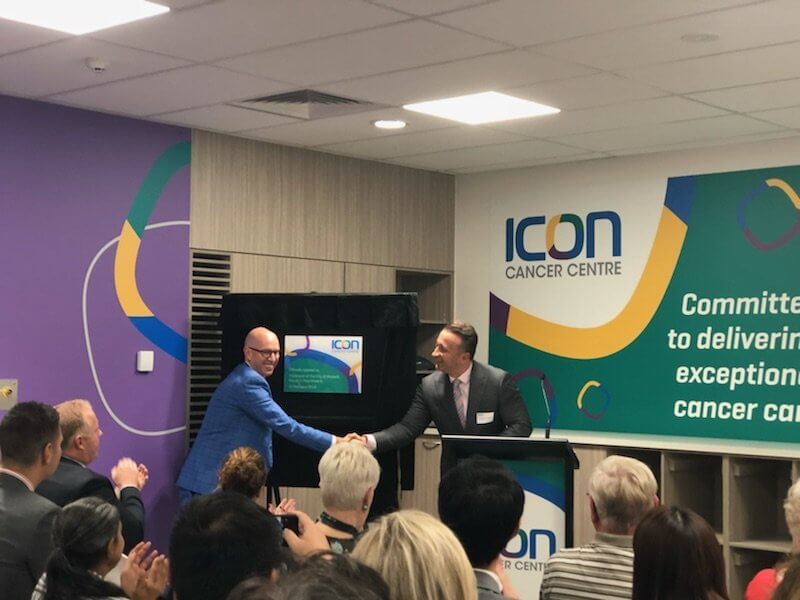 Audrey is determined to fight the cancer and wears her pink dressing gown to treatment each and every day.
"The team all know me as Audrey with the pink dressing gown. It's about getting through this and fighting; I stand tall in my pink dressing gown and it makes me feel ready to tackle the treatment!"
The Icon Cancer Centre will help the local community cope with the growing cancer burden. Recent reports show Australian cancer rates are expected to rise by 72% in the next 20 years, furthermore breast cancer is the most commonly diagnosed cancer in Australia with experts estimating 50 women per day will receive a diagnosis in 2018.
"It's really important to us that the people affected by cancer and their families have access to the best technology available near their homes," said Mark Middleton, CEO of Icon Group.
"The delivery of this centre complements the strong surgical and medical services delivered by the Valley and South Eastern Private Hospitals."
"These services are vital in our ageing local community. Patients requiring radiation therapy can now receive affordable, world-class treatment in a location they're familiar with. This is something the local residents deserve."