Icon Group first in South Australia to deliver tattoo-free radiation therapy treatment using game-changing technology
Breast cancer patient first in South Australia to receive surface guided radiation therapy treatment using AlignRT
A patient at Icon Cancer Centre Windsor Gardens has become the first person in South Australia to be treated with AlignRT, an advanced technology that delivers highly-accurate radiation treatment without the need to have permanent tattoo marks  ̶  which some patients find is an unwelcome daily reminder of their cancer.
Traditional radiation therapy for breast cancer requires patients to receive very small but permanent tattoos on their chest. These tattoos help the radiation therapist position the patient correctly and deliver treatment to the right location. This cutting-edge technology uses safe, non-invasive light emitted from specialised camera units to track and monitor patients during set-up and treatment, eliminating the need to permanently mark the body and offering greater precision and accuracy.
40-year-old Kyra Fetherston first noticed a lump in her breast a few weeks before Christmas in 2019, and after receiving a biopsy and mammogram on Christmas Eve, she was diagnosed with breast cancer just a week and a half later. Following a lumpectomy and five months of chemotherapy, she became the first patient in South Australia to receive surface guided radiation therapy (SGRT) using AlignRT.
"I was surprised when I learned that I wouldn't need to get permanent tattoos as part of my treatment. It meant there was one less thing for me to worry about, especially considering the pain and visibility involved with tattoos," Mrs Fetherston said.
"I would have needed to get four tattoos and one would have been visible on my chest. I'm glad not to have a visible reminder like that for special occasions and photos in the future."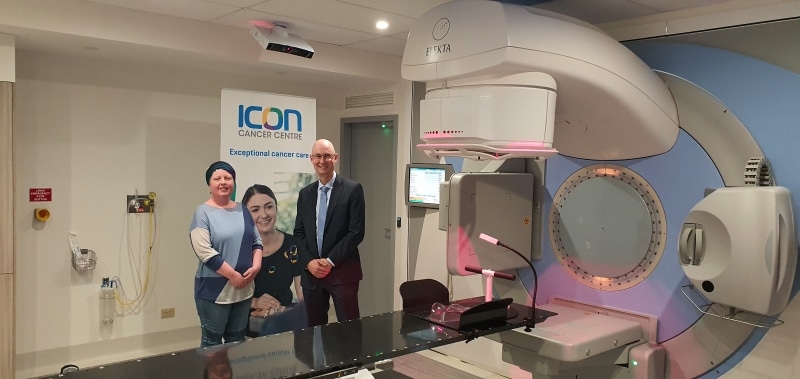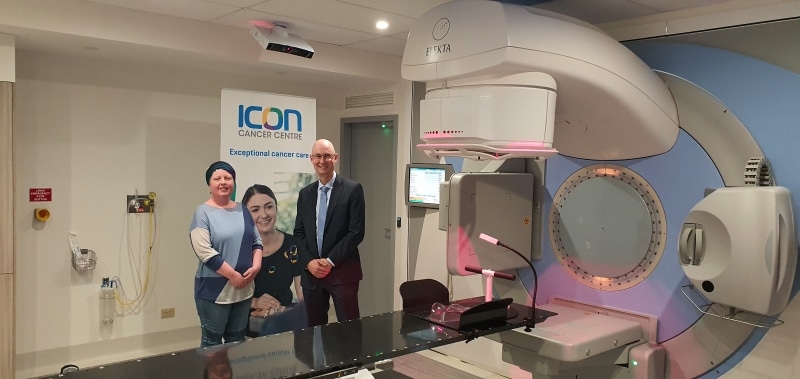 Icon Cancer Centre Radiation Oncologist Dr Scott Carruthers says this technology is suitable for all breast cancer patients, reducing the emotional impact a cancer diagnosis may have. AlignRT provides high doses of radiation directly to the cancer with pinpoint precision through an unlimited number of reference points, which isn't possible using traditional marks that are tattooed or marked using a pen.
"Surface guided radiation therapy gives us thousands of reference points, rather than just three or four simple marks which are traditionally indicated by the tattoo dots. These reference points allow the team to set up treatment with millimetre accuracy. The AlignRT system also ensures the patient position remains precise when treatment is being delivered each day," Dr Carruthers said.
"This gives patients reassurance that they are receiving highly targeted treatment directly to the location of their cancer. For many patients, these tattoos may act as an ongoing, unwanted reminder of their treatment. By eliminating the need for these, there is no long term visual reminder for these patients."
AlignRT's sophisticated, non-invasive technology uses camera systems to analyse the patient's breathing during DIBH and is linked to the radiation therapy machine, which won't run unless patients are holding their breath correctly.
The technology is also able to deliver Deep Inspiration Breath Hold (DIBH) by monitoring the patient's breathing position throughout treatment without the need for invasive equipment.
DIBH is a technique used for left-sided breast cancer patients, which markedly reduces the potential for any impact on the heart from radiation during treatment. The process involves the patient holding their breath for short intervals during treatment, which allows the heart to move further away from the radiation.
Kyra was able to receive DIBH during her treatment which gave her peace of mind.
"My cancer was located directly above my heart in my left breast. Knowing that radiation therapy can affect surrounding tissue, I was glad that using DIBH meant I didn't complicate anything else, especially since I don't have any existing issues with my heart or lungs."
"There is a screen with a coloured line on it which moves when you breathe and lets you know when to hold your breath. It gave me something to focus on and made the whole experience much easier."
"If you do lose your breath, the radiation stops; there's no need to worry. It's really great to be treated with this advanced technology. Everyone I've met along the way has been incredibly helpful; I truly feel like I'm in the right place and am being looked after in the most amazing way."
Icon Cancer Centre is part of Icon Group, Australia's largest dedicated cancer care provider. Icon Group CEO Mark Middleton says that bringing AlignRT to South Australia follows the Group's continued commitment to advancing cancer care and improving access to cutting-edge cancer treatments and technologies for patients and their families across Australia.
"At Icon, we have always pushed the boundaries of innovation. From providing the latest in radiation therapy technology as the first private provider in Australia to deliver tattoo free radiation therapy treatment in 2019, to now bringing comprehensive care to South Australian communities who need it most with the introduction of South Australia's first AlignRT technology at Icon Cancer Centre Windsor Gardens, we are committed to reducing the burden of cancer in South Australia and across the country," Mr Middleton said.
Icon Cancer Centre Windsor Gardens is currently offering this technology to breast cancer patients, with a view to utilise it for other cancer types in the near future.
Icon's national network means they can leverage highly specialised techniques and technologies such as AlignRT across their centres, including in regional and metropolitan areas. The delivery of these techniques includes national training, extensive quality assurance checks, and support to ensure treatment is delivered with the highest safety and quality.
Icon Cancer Centre Windsor Gardens has provided world-class care to the Adelaide community since opening in 2018 and offers a wide range of treatment options including radiation therapy, chemotherapy and treatment for blood disorders. Patients do not require private health insurance to receive radiation therapy treatment, with up to 80-90% of costs reimbursed by Medicare.
AlignRT is available at Icon Cancer Centre Windsor Gardens and Icon Cancer Centre Mulgrave.