Icon becomes first Australian healthcare company to deliver cancer care treatment in China
Icon treats first China cancer patient in Jiangxian
Today on the 5th of December 2019 Icon Group has become the first Australian healthcare company to deliver cancer care treatment in China. The first radiation therapy treatment has been delivered to a local Chinese resident at the first Icon Cancer Centre in Jiangxian. This state-of-the-art centre, located in Jiangxian Red Cross Hospital is equipped with a Varian Halcyon System, the latest in radiation therapy technology with the capacity to treat up to 80 patients a day. It is the first of many Icon Cancer Centre's set to open across Mainland China in the coming years alongside our other partnerships with Sanbo Brain Hospital and United Family Healthcare.
Icon Group CEO, Mark Middleton reflects on the three year long journey in making this dream a reality below.
Achieving the impossible
"It always seems impossible until it's done" – Nelson Mandela
Today we did what others deemed impossible. Today we increased access to cancer care in China – today we successfully treated our first patient at the first Icon Cancer Centre in Jiangxian. Jiangxian is a city in the Shangxi province and by China standards, considered a small city only serving a catchment of over one million people.
Residents usually have to travel to neighbouring cities to access healthcare services, with their closest radiation therapy centre 80 kilometres away which is equipped with out-dated technology no longer used in places like Australia, USA and the UK.
It is also not uncommon for locals to be seen by an Oncologist on the streets in nearby villages due to the lack of healthcare facilities. This photo below shows one of Icon's China Oncologists consulting patients – I think there is no truer representation of how we are helping change the lives of so many.
Pictured: Icon Oncologist, Dr Guobin consulting patients in the villages around Jiangxian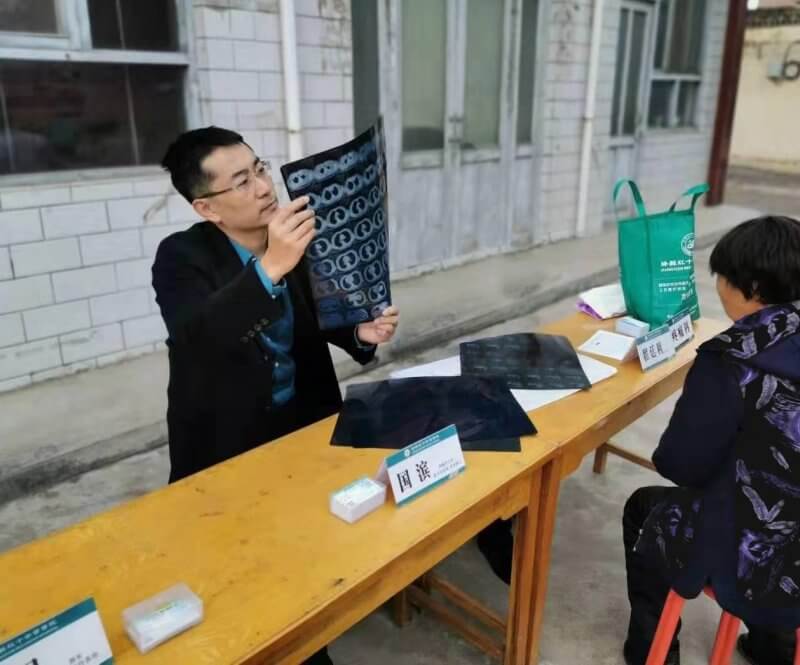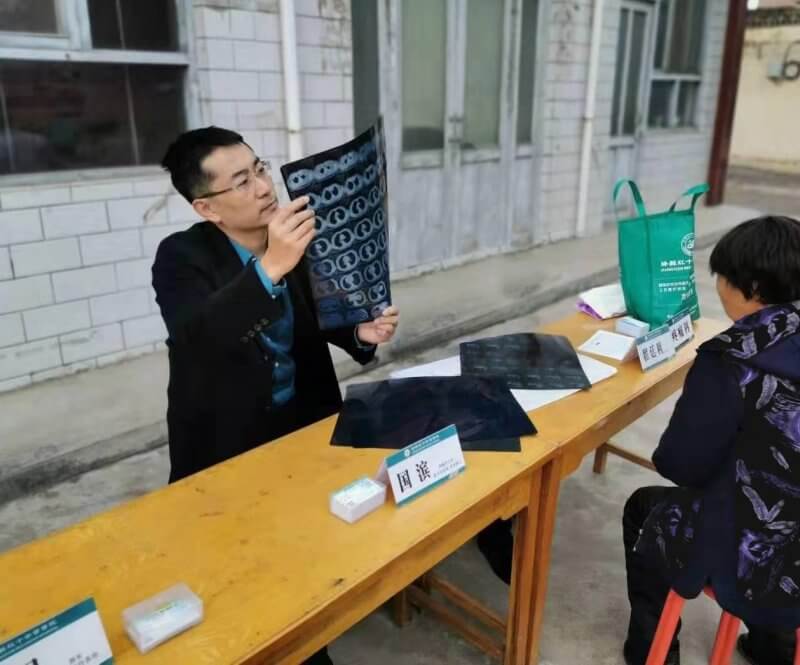 Over the past three years our China project team have been working endlessly to do what no other Australian healthcare company has ever done before. Together we have built a world-class Icon Cancer Centre for the people of Jiangxian to help thousands more receive the cancer treatment they deserve. Today, a local cancer patient was able to receive the care he needed because of what so many have worked so hard to build. Every member of the team involved in making this dream a reality have an infectious passion to make a difference.
Like all of our wins, its success lies with our people. Professor Yang Wang, our Icon China Chief Technology Officer was by my side in January 2016 when Icon first visited China, and has been by my side ever since. Originally from China, Yang has continued to apply his medical physics expertise to bring the same standard of care we have in our Australian centres to China and help those in his home country. I can't express how special this moment is for him and his family. This would also not be possible without Chelsea Ren who leads our Icon China arm. When Chelsea joined Icon almost two years ago I promised her that together we would work hard and deliver on our shared dream and help her country and its people – that dream is now a reality and so much of our success is attributed to the relationships Chelsea has built with key partners in China.
Every person at Icon involved in this project has contributed to this milestone. It has been the greatest learning exercise for our teams. We've learnt new ways of working together, bridged the gap between our cultures and developed relationships cross-countries to make this happen. We're increasing clinical education to local Chinese medical professionals and introducing a unique way of delivering care to match the landscape and address the gaps. On this journey we have learned about resilience, the power of teamwork and camaraderie.
This has also been a particularly personal achievement. I have made sacrifices, mistakes and wrong turns along the way. From the Aussie suburban backyard to navigating the intricacies of Chinese culture, it has been a difficult journey but an extremely enriching one. Visiting hospitals in China and learning about the reality of healthcare for millions of Chinese has been humbling. After seeing this reality it was never a question of could we do this, it was only a matter of when we'd make this happen. They said it was impossible, but today we did it – we've overcome every obstacle and used our experience and innovation to bring cancer care to a place no one dared go before. To a place that deserves state-of-the-art care as much as anywhere else in the world.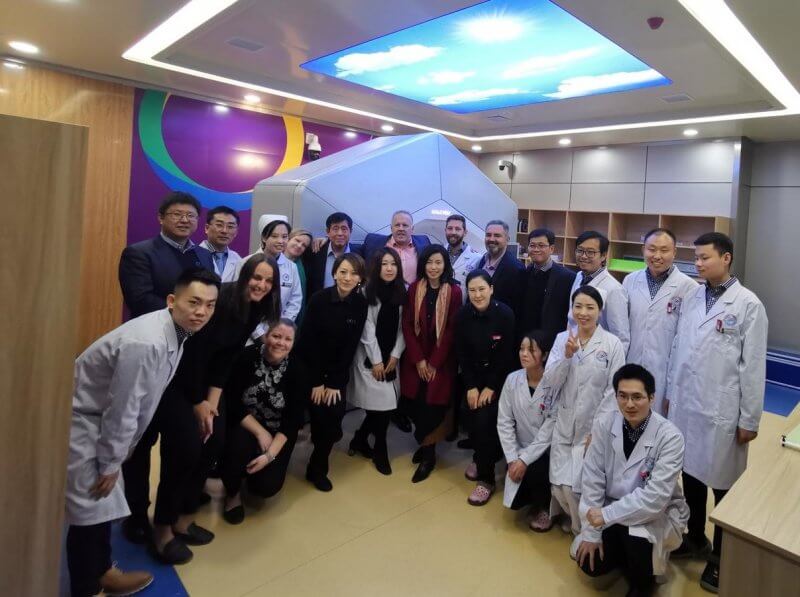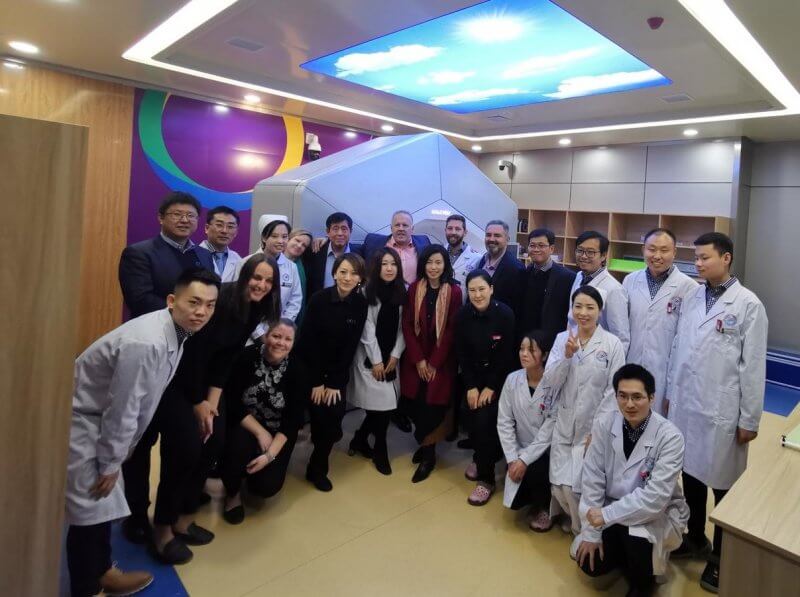 It is because of this dedicated team, our shared vision and tenacity that today, this cancer patient in a community in China can be with their loved ones and feel comforted knowing they are receiving the latest in radiation treatment. They can walk into a world-class and welcoming centre, rather than a table on the street to see their doctor.
For this community, our centre is a symbol of hope – it can mean a better quality of life, more birthdays, more smiles, and more hugs.
And this is just the beginning. Yesterday, Icon officially signed an agreement with the Sinohydro Bureau 11 Co. Ltd Huanghe Sanmenxia Hospital. Sanmenxia is in Henan province, widely regarded as the Cradle of Chinese civilisation and the province with the highest population. Sanmenxia Hospital has an existing campus with 1500 beds and is currently building a second campus of 800 beds where Icon will build and operate an Icon Cancer Centre delivering radiation therapy treatment. Our ability to help more people in China will only grow alongside our partnerships with Sanbo Brain Hospital and United Family Healthcare.
Our processes will only get better, our training will continue to evolve, remote radiation therapy planning will allow us to treat more people, more efficiently, and our dream to make a difference will never tire.
On my 41st trip to China I am tremendously proud of this moment. Today on the 5th of December 2019, we've changed the dial on the global cancer burden and brought the best care possible to as many people as possible, as close to home as possible.