Icon commits $200,000 to Peter's Project Foundation survivorship program for local cancer patients
Supporting the Warrnambool community
Warrnambool cancer community organisation, Peter's Project, this week received a donation of $50,000 from Icon Group as part of four-year pledge to support their unique cancer survivorship program. The commitment will see a total of $200,000 invested in the program over the next four years by the local radiation oncology provider. Icon's donation matches funds currently contributed by Epworth Medical Foundation and a number of local groups.
The bespoke program allows local cancer patients to have access to their own survivorship nurse from the South West Regional Cancer Centre (SWRCC) to support them following treatment. Patients receive tailored care and access to an online portal which includes education information relevant to them.
"This donation is part of our absolute commitment to the the Warrnambool cancer community. It remains our core mission to deliver the best care possible for patients, as close to home as possible. This survivorship program aligns to our mission by allowing patients who have unique health and social care needs following cancer treatment to continue to receive specialised care in their local community," said Mr Mark Middleton, CEO of Icon Group.
The survivorship program helps local patients deal with the physical, functional and emotional challenges they may face as a consequence of cancer treatment, assisting them to transition back to life after treatment. The funding will also bolster the supportive care program which delivers dedicated education and exercise to support cancer patients during their treatment.
Pictured: L-R Icon Group CEO Mark Middleton, Peter's Project Foundation Director Vern Robson, Peter's Project Foundation Chairperson Vicki Jellie, Peter's Project Foundation Director Glenys Philpot and Survivorship Nurse Sarah Ramsdale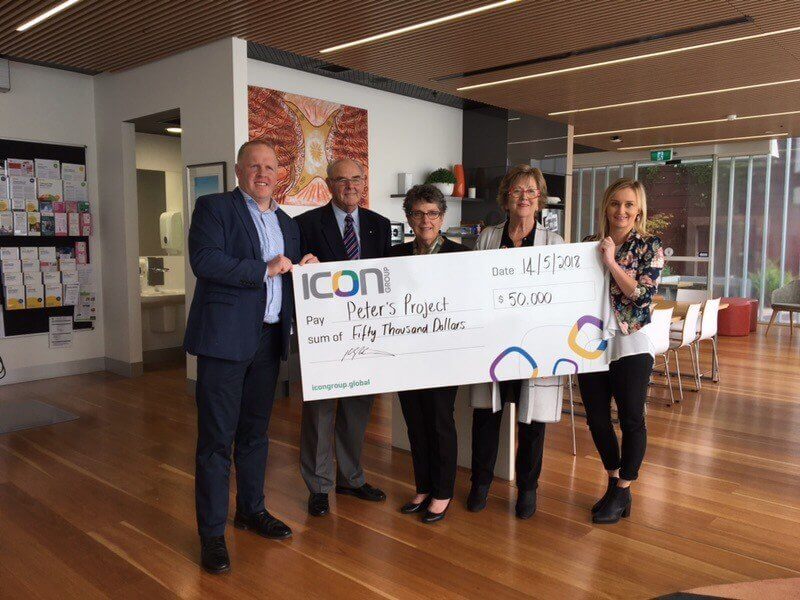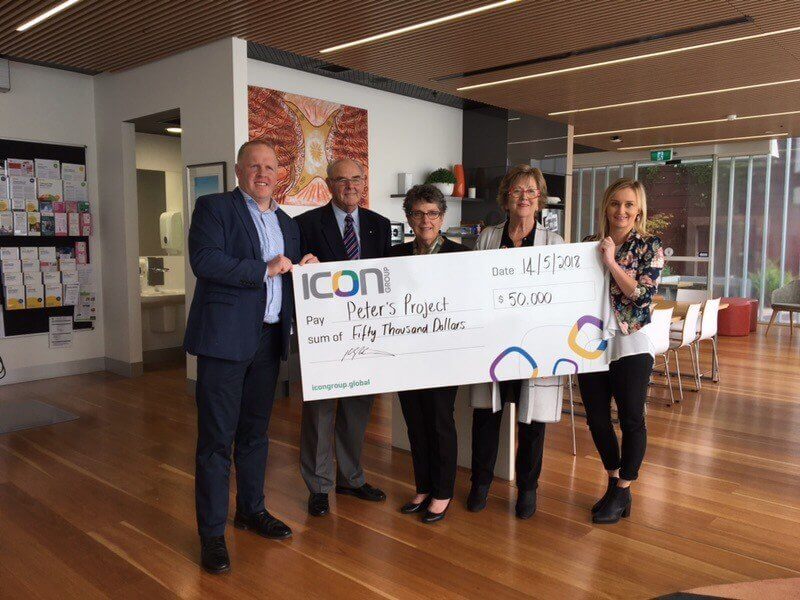 Peter's Project was launched by local Warrnambool resident, Vicki Jellie, who crusaded to bring radiation therapy to south-west Victoria and south-east of South Australia when her husband Peter Jellie, aged 49, passed away from oesophagael cancer in 2008. Peter had just 20 weeks of life after his diagnosis. In that time, Peter had to travel to his 320km to Melbourne to receive radiotherapy that took just 15 minutes each day.
The Peter's Project Foundation, in partnership with Epworth HealthCare, created the supportive care and survivorship program to continue the legacy of greater access to cancer support for local people.
"When Peter was receiving treatment, we experienced first-hand the difficulty to access not only cancer treatment facilities but support in a regional area," said Vicki Jellie.
"We're proud to support a program which provides easy access to care through the program's online function as well as the support from a nurse to navigate the transition to wellness and recovery after treatment."
"We're grateful for the donation which enables this program to continue to grow."