Icon Group brings Australian-first radiation technology to Queensland
A Queensland patient has become the first person in Australia to be treated with world-leading radiation therapy following the installation of Australasia's first Varian Halcyon™ system to the Icon Cancer Centre (previously known as Radiation Oncology Centres) in Toowoomba by Brisbane-based Icon Group.
The new state-of-the-art Halcyon system offers pioneering technology to streamline and simplify every aspect of a patient's cancer treatment. The system delivers radiation therapy with pinpoint precision and speed, providing a more comfortable service for up to 50 patients a day at Icon Cancer Centre (previously known as ROC) Toowoomba.
Dr John McVeigh, Federal Member for Groom, said the addition of the advanced Halcyon technology to ROC Toowoomba is further evidence of the state's ongoing commitment to combatting cancer.
"Cancer is an important issue for Queenslanders with incidence rates higher than any other state. Having the right cancer services in place is critical to ensure the best chances for patients. We welcome the addition of the latest, world-leading oncology technology to Queensland that will not only improve patient's access to comprehensive cancer care, but places Queensland at the forefront of healthcare innovation."
More than 26,000 Queenslanders are diagnosed with cancer every year, and more than 8,600 die from the disease, with the Australian Institute of Health and Welfare reporting cancer affected 542 per 100,000 people in Queensland between 2006 and 2010.
Toowoomba cancer patient Dennis McNamara was diagnosed with prostate cancer in July and was the first to be treated on the Halcyon system at ROC Toowoomba.
Dennis, a retired boilermaker has a family history of cancer with one brother having been diagnosed with kidney cancer and another brother having passed away from lymphoma, and his mum from pancreatic cancer.
He was shocked when he was diagnosed with prostate cancer as he showed no symptoms. However, he went through the motions and was prepared for the treatment ahead.
"You can't do anything about it but get the treatment you need," Mr McNamara said.
Pictured: First patient, Dennis McNamara with ROC Toowoomba staff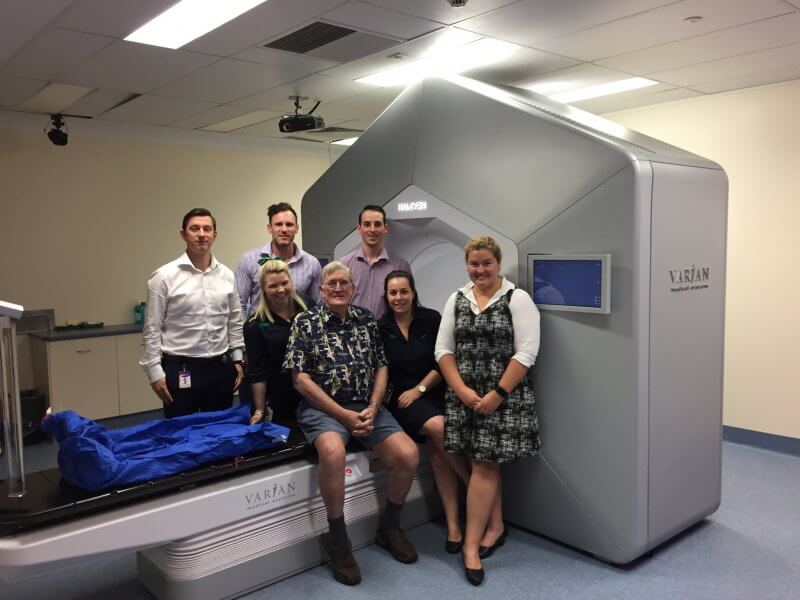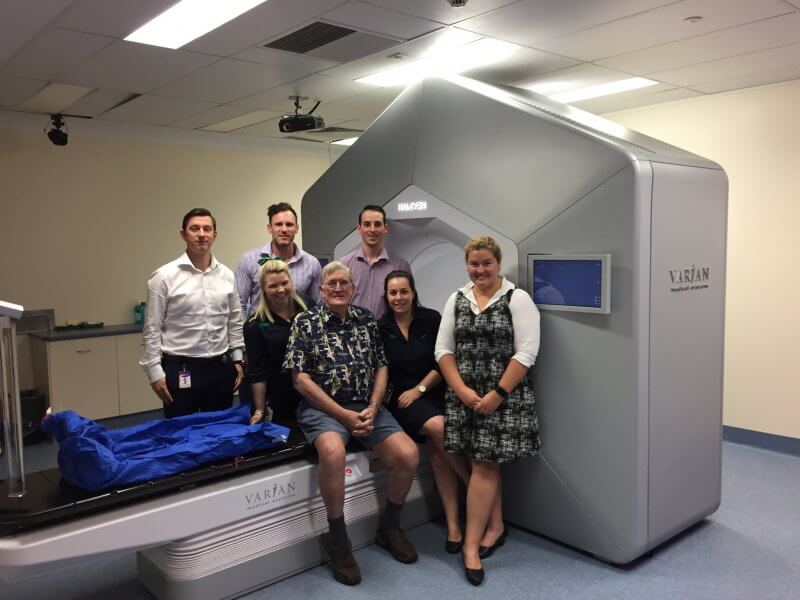 Dennis has received three months of hormone therapy and started his radiation therapy treatment on 24 October 2017 on the Halcyon system.
"When I was told I would be the first patient to be treated on this machine, it feels exciting in a way. Of course, you don't want to be there in the first place, but I also feel privileged to be able to get the latest treatment here in Toowoomba. It is nice to know you have people looking after you."
Icon Group CEO, Mark Middleton, said the company remained focused on bringing cancer care to where people live, especially those in regional areas.
"In Australia, we're continuing to deliver comprehensive cancer care services – that were once only available in cities – and bringing them to people in regional and rural areas, reducing the emotional and social burden of cancer, and ensuring regional patients have access to the very best cancer treatment possible," Mr Middleton said.
"As a Queensland-founded company, we're proud to bring the latest Halcyon technology to our Queensland patients, and continue our commitment to support access to the very best care for the people who need it."