Icon Group expands cancer research capabilities with major acquisition to benefit patients across Australia
Icon Group expands cancer research capabilities with acquisition of Ashford Cancer Centre Research
Australia's largest private cancer research provider Icon Group has completed the acquisition of Ashford Cancer Centre Research, who offer South Australia's leading private cancer clinical trials program, to improve access to clinical trials for a greater number of cancer patients across Australia.
Together with more than 45 years' experience in haematology and oncology research, Icon Group and Ashford Cancer Centre Research have been involved in over 585 clinical trials and supported 2 900 cancer patients from South Australia and across the country to access cancer research.
The acquisition of Ashford Cancer Centre Research represents another step forward in Icon's expansion across Australia to close the gap in access to advanced cancer care treatments through clinical trials, as they increase their current clinical trial delivery from 150 trials to more than 250 with the capacity to support increased patient participation in clinical trials across haematology, medical oncology and radiation oncology.
Dr John Bashford, Director of Research at Icon Group, says the acquisition will further bolster Icon's capability to offer patients access to new and emerging advances in cancer treatment, and revolutionise the way they are treated in the future.
"Individually, ACCR and Icon represent the two largest private providers of research in Australia. By coming together we are increasing our existing research capacity by 50%, ensuring we have greater capability to investigate the most innovative treatments in the world and bring these clinical trials into South Australia, while supporting our reach into Western Australia and Victoria," Dr Bashford said.
Pictured: Ashford Cancer Centre Research co-founder Dr Francis Parnis and the ACCR team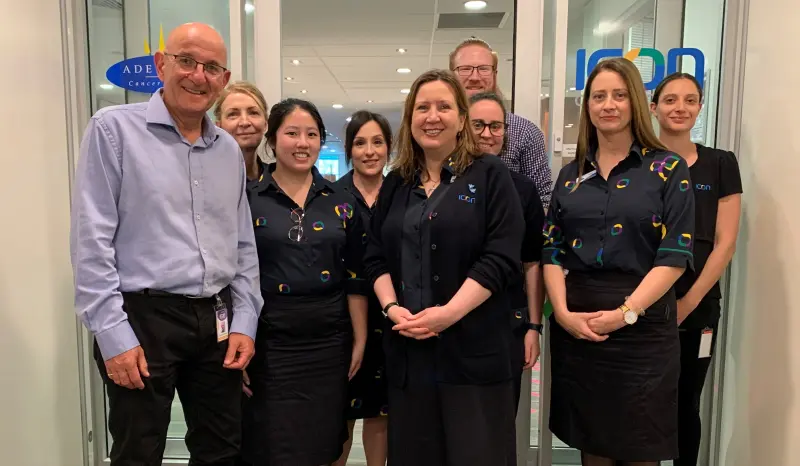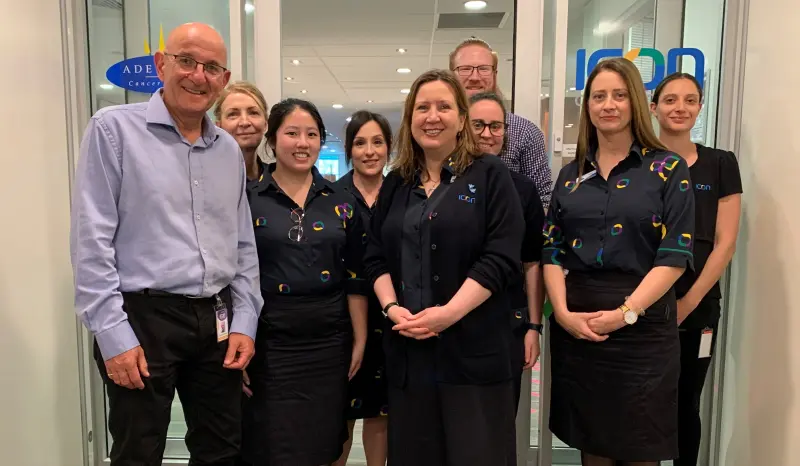 "Our greatest opportunity lies in our complementary strengths. While Icon Group delivers Queensland's largest Phase I oncology trial program, with 75% of trials focused on the growing area of immunotherapy, 48% of the clinical trials open to recruitment at Ashford Cancer Centre Research are Phase II and III trials."
"We look forward to continuing to deliver a wide breadth of innovative clinical trials across Phase I while further expanding our Phase II and III clinical trials to improve cancer care in Australia and beyond."
Ashford Cancer Centre Research co-founder and Clinical Research Director A/Prof Dusan Kotasek says the partnership with Icon Group is the culmination of many years of working together and a shared commitment of providing hope and opportunity for all patients through clinical trials.
"We are delighted to have partnered with Icon Group to support their expansion within South Australia. This partnership will strengthen our capability to deliver exceptional care and sustain the future growth of haematology, oncology and radiation therapy research in Australia. We look forward to joining Icon on their mission to support as many patients as possible to navigate their individual cancer journeys through access to the latest in clinical research," A/Prof Kotasek said.
"For the many Australians who are diagnosed with cancer each year, research plays an important role when traditional treatment methods aren't effective or suitable."
"We are proud to now provide a greater level of support in the development of new and novel therapies for people with cancer in Australia and across the world as part of Icon Group."
Icon Group has a strong history of cancer research, offering an integrated approach between pharmacy and research which streamlines the delivery of clinical trials. Icon Group Executive Manager of Research Dr Sophie Mepham says the Group's commitment to quality and continual improvement provides an unrivalled capability in research excellence.
"At Icon we are proud to have a dedicated pharmacy as part of our research arm, which is the cornerstone of our Phase I clinical trial program. The edge that this gives us to support incredibly high-quality clinical trials, alongside our compounding capabilities and recently launched internal GCP training program, is second to none," Dr Mepham said.
Icon Group has been an active contributor in a number of milestone trials that have seen significant advancements in cancer treatments, including the ground-breaking trial that changed the use of Herceptin in breast cancer patients.
This was also reflected in Icon Group's recent TRANSFORM study, which found that stereotactic radiation therapy for metastatic prostate cancer can delay treatment progression for more than two years – changing the standard of care for men with advanced prostate cancer across the world.