Icon Group signs agreement with China's Sinohydro Bureau 11 Co. Ltd Huanghe Sanmenxia Hospital
Icon continues to grow services into Mainland China
Just as Icon became the first Australian healthcare company to deliver cancer care treatment in China at the Icon Cancer Centre in Jiangxian, the group has also officially signed an agreement with Sinohydro Bureau 11 Co. Ltd Huanghe Sanmenxia Hospital.
Sanmenxia is in Henan province, China's most populous province. Sanmenxia Hospital has an existing campus with 1500 beds and is currently building a second campus of 800 beds at their Huanghe (Yellow River) Sanmenxia Hospital where Icon will build and operate an Icon Cancer Centre to deliver the latest in radiation therapy treatments.
Cancer rates across China continue to increase, with high levels of cancer diagnosis across the Henan province but there is currently a lack of expertise and resources to meet the cancer burden. Icon Group's strong track-record and comprehensive oncology experience will allow Sanmenxia Hospital to deliver a world-class standard of cancer care to the community.
"We are bringing the absolute latest in cancer care to the people of China. This partnership is another example of our commitment to make a difference across Mainland China," Mr Middleton said. "We want to help hospital partners, like Sanmenxia wherever we can and share our knowledge and expertise to help close the gap and provide the best care possible to local communities in need."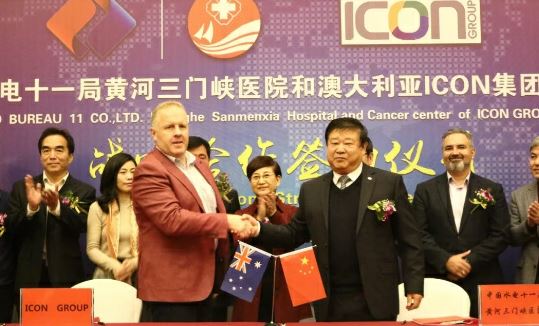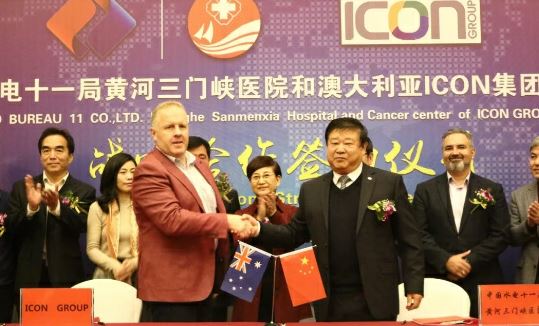 The hospital is located in a growing hub that will service the Henan, Shaanxi and Shanxi, the Yellow River Golden Triangle, communities and will help contribute towards the 'Health Sanmenxia 2030' strategy to increase healthcare in the region and bring advanced technology and medical expertise to the community.
This year, Icon Group also signed partnerships with Sanbo Brain Hospital and United Family Healthcare and opened a centre in Jiangxian Red Cross Hospital. Alongside its growth in Mainland China, this year Icon has increased service offering in Singapore with the announcement of a comprehensive cancer centre at Mt Alvernia Hospital set to open in 2020 and the acquisition of SunTech Medical which saw the expansion of services into Hong Kong.