Icon Mulgrave becomes first Australian private provider to deliver tattoo free radiation therapy treatment
Icon installs AlignRT to deliver surface-guided radiation therapy
Icon Group's cancer centre in Mulgrave has been providing the latest in radiation therapy for just over one year to the local community, and is now the first private provider in Australia to introduce a new technology – AlignRT that delivers pinpoint precise radiation treatment without the need to have permanent tattoo marks.
Traditional radiation therapy for breast cancer requires patients to receive very small but permanent tattoos on their chest. These tattoos help the radiation therapist position the patient correctly and deliver treatment to the right location. This technology uses safe, non-invasive light emitted from specialised camera units to track and motor patients during set-up and treatment, eliminating the need to mark the body.
Local resident, 63-year-old, Sharyn Mackey was diagnosed with breast cancer in December 2018 and is one of the first patients to receive this treatment, referred to as Surface-Guided Radiation Therapy (SGRT). For Sharyn, the thought of having permanent marks on her body was a daunting prospect.
"For me, I'd never had a tattoo in my life, and I don't particularly like them. But the fact is – I'd be left with those little ink dots on my body. It would have made it more stressful for me," Sharyn said. "You are already undergoing a lot of psychological stress, it was a huge relief to not need to get them. It would have been a constant reminder of what I had to go through."
Pictured: Icon Cancer Centre Mulgrave patient Sharyn Mackey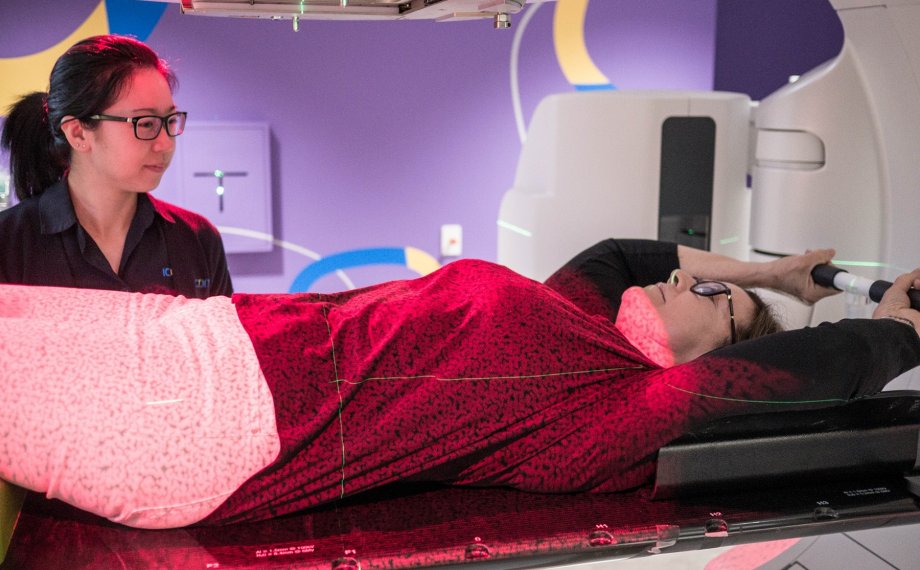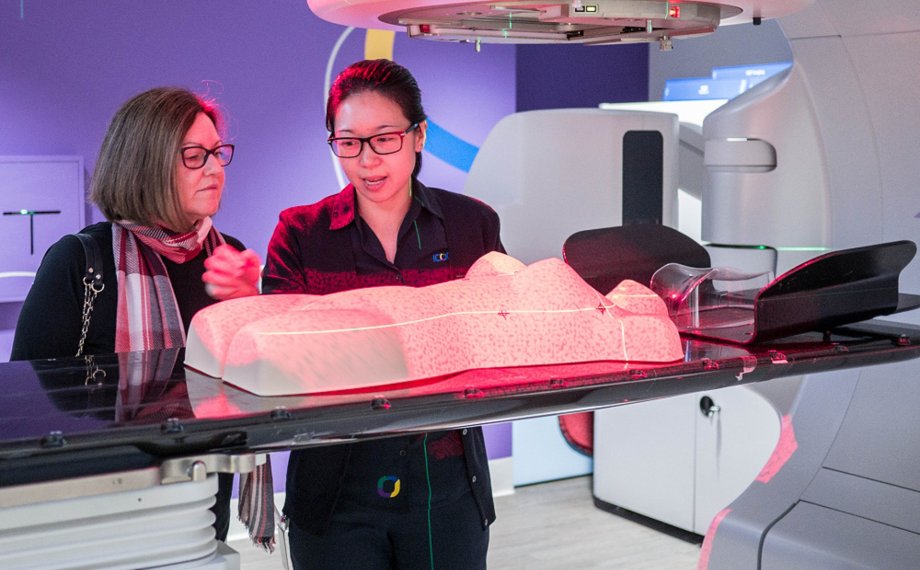 Icon Cancer Centre Radiation Oncologist, Dr Andrew See says this technology is suitable for all breast cancer patients and will further reduce the emotional impact a cancer diagnosis can have.
"Surface guide radiation therapy gives us thousands of reference points, rather than just three or four, that is traditionally indicated by the tattoo dots. These reference points allow the team to deliver treatment to sub-millimetre accuracy safely and efficiently," Dr See said. "For many patients, these tattoos serve as an ongoing, unwanted reminder of their treatment. By eliminating this, patients can feel more at ease and have one less thing to worry about."
The technology also is also able to deliver Deep Inspiration Breath Hold (DIBH) by monitoring the patient's breathing position throughout treatment. DIBH is a technique used for left-sided breast cancer patients that reduces the potential impact on the heart from radiation during treatment. The process involves the patient holding their breath for short bursts during treatment, which allows the heart to move further away from the radiation.
Sharyn was able to receive DIBH during her treatment which provided further comfort.
"It was a relief to know my heart was being protected as I have a family history of heart disease. Knowing I was getting the absolute latest in treatment and five minutes from my home made a big difference," Sharyn said.
Icon Group CEO, Mark Middleton says the company are focussed on being early adopters of technology to help patients in every aspect of their care.
"It's our firm belief that people should have access to quality cancer care as close to home as possible," Mr Middleton said.
"We are proud to bring the absolute latest technology to the local community, providing the most effective and safe ways to treat this ever increasing disease and support our patients and their families the best we can."