Icon Cancer Centre helps meet growing demand for cancer care in Canberra, ACT
Icon has officially opened an Icon Cancer Centre in Canberra – the first private radiation oncology service in response to one of the ACT's fastest growing healthcare demands.
There are more than 1,600 new cancer diagnoses in the ACT each year and the local demand for care is expected to increase in the next decade with predictions that 55% more cancer treatments will be needed.
The official opening of Icon Cancer Centre took place alongside the opening of Qscan Canberra. Qscan Canberra is a premium PET-CT and oncology imaging service enabling the execution of novel and cutting-edge procedures. Both providers are co-located in the purpose-built Canberra Specialist Medical Centre alongside the University of Canberra's allied health service. This state-of-the-art facility brings together leading educators, researchers and healthcare providers to offer local patients greater choice to receive cancer treatment close to home in a timely manner.
John Barrett from the Gold Coast has lived with his wife in Canberra for eight years due to work. In November 2018, John was diagnosed with Squamous Cell Carcinoma (SCC) on his right cheek which would require surgery followed by radiation therapy. The new Icon Cancer Centre opened in time for him to receive radiation treatment during the critical window following his surgery. This also meant he could continue working and being with friends and family.
"I'm very grateful that the Icon centre opened in time for my treatment. I had a really short window to have my radiation after surgery which wasn't going to be possible locally. If Icon wasn't here I would have had to go to Sydney or the Gold Coast for six whole weeks, and that would have meant both myself and my wife having to stop work. I'm a contractor so the thought of no income and the uncertainty around extended leave was concerning," said John Barrett.
Icon Cancer Centre Canberra can deliver up to 9,000 radiation therapy treatments a year at present, with capacity to introduce a second machine to deliver 18,000 treatments as demand increases. Radiation therapy is available to all patients in the region, whether they usually access private or public healthcare.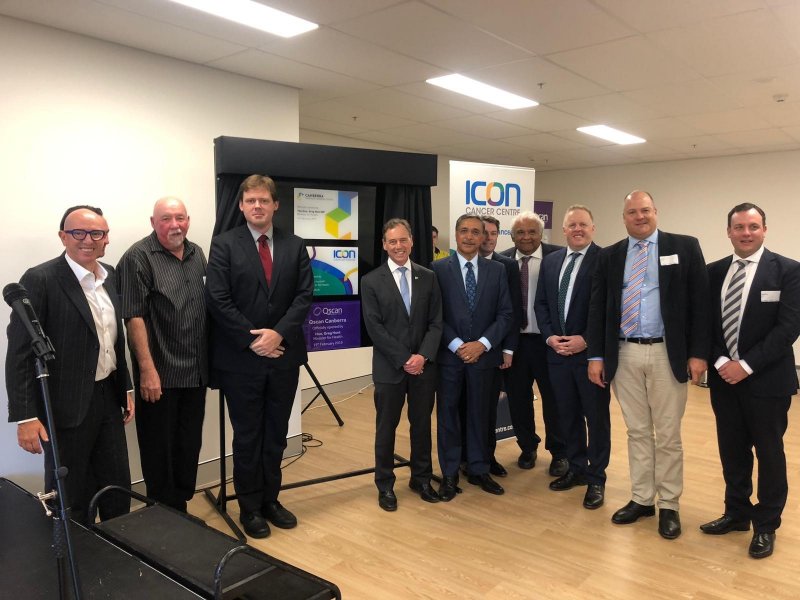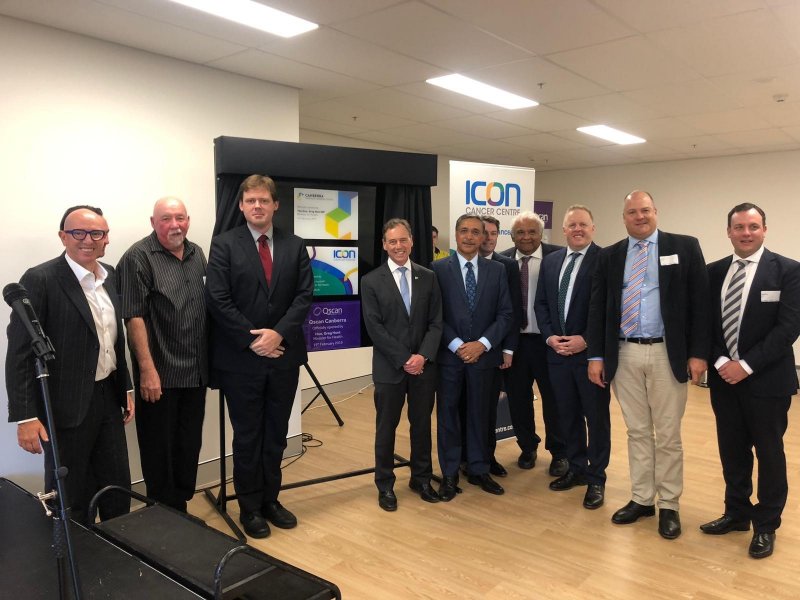 "My cancer diagnosis led to numerous side effects – I lost my sense of taste, my skin was visibly affected, I experienced loss of appetite, weight loss, hearing loss and mouth ulcers. Without the support of a professional and truly caring team providing me with all the right information and support, it would have been a very difficult time to get through," said John.
In addition to providing greater choice for local cancer patients, the Canberra Specialist Medical Centre will foster the next generation health workforce with work-integrated learning opportunities for University of Canberra students.
Students from the Faculty of Health will work closely with Icon Cancer Centre to deliver personalised allied health services for patients during their oncology treatment.
"Icon Group was founded on a vision to provide the best care possible, to as many people as possible, as close to home as possible. We are extremely proud to deliver on this commitment for the people of Canberra, with local patients now having greater choice to receive integrated and holistic cancer care on their doorstep at Canberra Specialist Medical Centre," said Stuart Giles – Founder and Chairman, Icon Group and Board member of Qscan. "Providing the best possible healthcare services for any community takes a consummate team effort. Icon, Qscan and the University of Canberra look forward to continuing working closely together to meet the cancer care needs of local patients."
Chemotherapy and treatment for blood disorders will be introduced at Icon Cancer Centre later in 2019, ensuring patients have access to all aspects of cancer care under the one roof.