Icon Group first in ACT to deliver advanced radiation therapy using HyperArc technology
Canberra local first in ACT to be treated with new advanced radiation therapy technology
A Canberra cancer patient has become the first person in the Australian Capital Territory to be treated with advanced radiation therapy at Icon Cancer Centre Canberra using Varian's HyperArc™, a new cutting-edge hyper-targeted radiation therapy treatment for multiple brain tumours.
54-year-old Canberra local Yuhua Shi was first diagnosed with Stage III invasive breast cancer in 2015 after noticing a lump in her left breast. Yuhua went on to receive a mastectomy, four and a half months of chemotherapy and four weeks of radiation therapy and was delighted to learn she had gone into remission.
Unfortunately, four years later the discovery of a lump in her neck led to devastating news – the cancer had returned and spread to her lymph nodes. Her next round of treatment involved 15 months of chemotherapy at Icon Cancer Centre Canberra, before Yuhua and her family learned her cancer had spread again in September 2020, this time to her brain.
"During my chemotherapy treatment I started to get headaches that wouldn't go away with painkillers. I spoke to my oncologist who decided to do an MRI, and we found out the cancer had progressed to my brain. It was so shocking and unbelievable. When I started my first treatments in 2015, I was quite confident that my treatment was going to cure me. To learn it had spread twice was even harder to take, especially being told I have cancer in my brain and don't have much longer to live. I was hoping I would be the lucky one," Ms Shi said.
Yuhua was able to rapidly access cutting-edge radiation therapy treatment using HyperArc™ technology at Icon Cancer Centre Canberra and became the first person in the ACT to be treated using this advanced technology, with just three treatments delivered over one week. HyperArc™ utilises the features of the Varian machine that delivers radiation therapy (TrueBeam linear accelerator) to accurately deliver precise radiation therapy to multiple brain tumours with greater efficiency, speed, accuracy and patient comfort, while limiting doses to surrounding healthy brain tissue.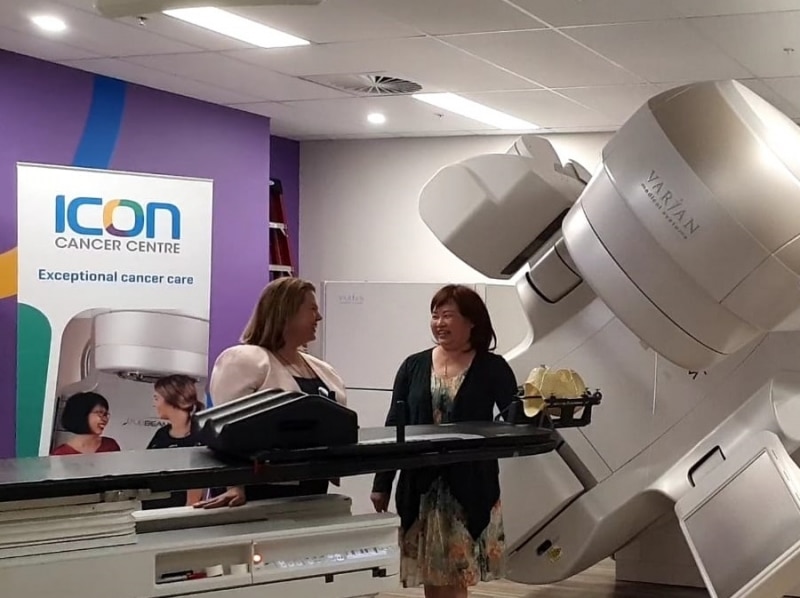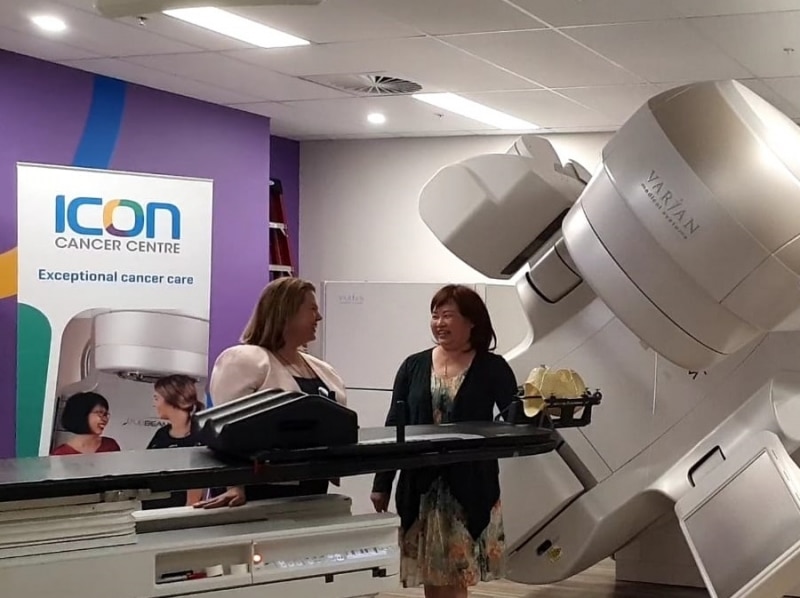 Icon Cancer Centre were the first to introduce HyperArc in Australia in 2018 and have continued to redefine the treatment of people with advanced cancer, now treating up to 18 brain lesions at a time, something unheard of 10 years ago.
"HyperArc, a form of stereotactic radiation therapy, is helping us support people with advanced cancer to live longer and with a better quality of life. Prior to the availability of stereotactic brain radiation therapy, patients would face longer and less precise treatment with significantly more side effects, which could be debilitating," Icon Radiation Oncologist Dr Lisa Sullivan said.
"HyperArc technology turns this on its head and delivers a higher dose of radiation directly to the tumours in a short period of time, with a relatively low impact on quality of life. With the introduction of HyperArc to the ACT, more patients with a diagnosis like Yuhua can access stereotactic radiation therapy in their home town."
"This means that patients can receive treatment that will extend their life while spending time doing what they love, without the stress of travel during this difficult time."
HyperArc can efficiently deliver treatment to multiple tumours in just a few minutes through one automated setup, compared with other systems which require multiple setup points and the need for treatments to stop and start, meaning patients are on the treatment bed for longer.
For Yuhua, receiving advanced treatment so quickly was reassuring and comforting in her time of need.
"I feel so blessed and lucky I could receive this advanced treatment. It gave me more confidence that I could be treated with the latest technology, and physically it was so easy to deal with only going through treatment three times. I think the accuracy of the treatment is unbelievable."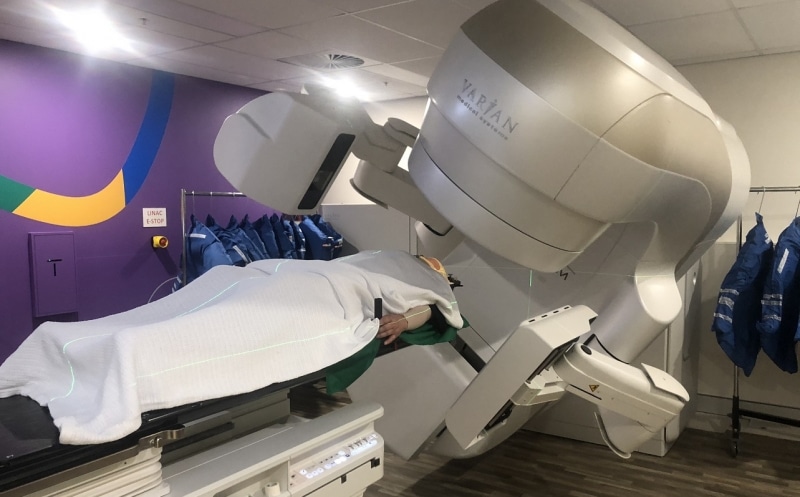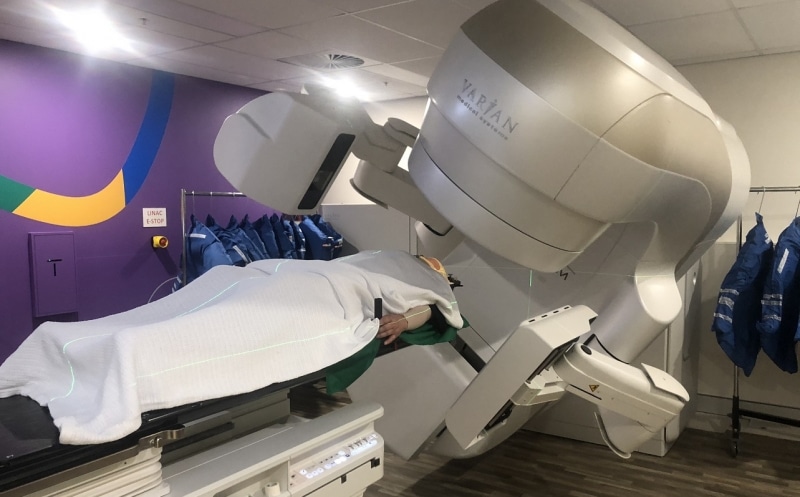 As her radiation therapy treatment was delivered in less than a week, Yuhua was able to continue working throughout treatment and spend time with friends and family.
"I'm still working three days a week and it was so helpful that I could receive treatment which worked around this. It's completely hassle-free. It only took 15 minutes each time and everything was set up for me, so I could relax and trust in my team. I actually fell asleep during treatment! Five years ago when I received radiation therapy to my breast, each time it would take so long which was very frustrating and exhausting. This was so quick and easy; mentally, it hugely reduced my stress and frustration," Ms Shi said.
Icon Radiation Oncologist Dr Lisa Sullivan sees this major milestone as only the starting point.
"More and more people are now living longer with advanced disease thanks to these cutting-edge developments in treatment, which are helping people with secondary cancers who would otherwise have very few options. We strongly believe that all cancer patients, irrespective of where they live, should have access to the latest treatment that can have the potential to extend their lives and spend as much quality time as possible with those they love, which is why we are so proud to introduce this cutting-edge technology to the ACT," Dr Sullivan said.
Icon's national network means they can leverage highly specialised, world-class techniques and technologies such as HyperArc across their centres, including in regional and metropolitan areas.
The delivery of these techniques includes national training, extensive quality assurance checks, and support to ensure treatment is delivered with the highest safety and quality.
Icon Cancer Centre Canberra is a state-of-the-art cancer treatment facility delivering Canberra's first private radiation oncology service, in addition to providing chemotherapy and treatment for malignant and non-malignant blood disorders under the one roof. Private health insurance is not required for radiation therapy with 80-90% of treatment costs covered by Medicare.
HyperArc technology is available across Australia and New Zealand at Icon Canberra,  Icon Greenslopes, Icon Gold Coast Private, Icon Maroochydore and Bowen Icon Cancer Centre.